You Glo, Glen Coco! *Limited Fall Scents*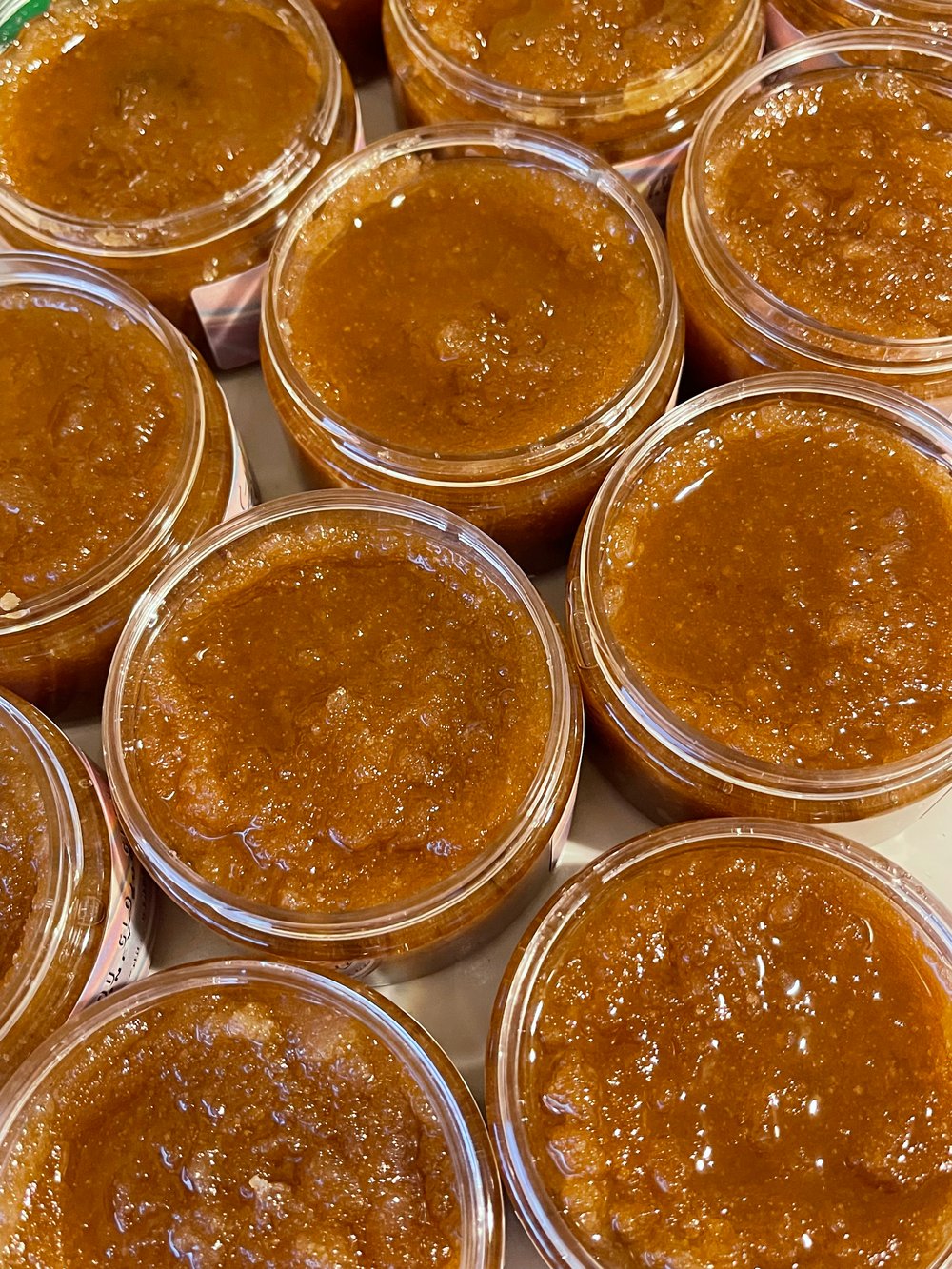 A limited edition run of our popular "You Glo, Glen Coco!" sugar scrubs! With the exact same formula to pamper your skin + senses with this delightfully sweet all-natural scrub, we're now offering them in brand new delicious scents for you to enjoy these cozy fall months. It contains brown sugar to gently scrub away dull skin and rich sunflower oil to soften and moisturize. Simply grab a small dollop in between your fingers while in the shower, and scrub away. It smells so good that you'll be tempted to eat that dollop right off your fingers!
*Product is currently available for pre-order only! Please allow one week minimum for your item to be made. Please view our shipping policies for more details.*
- DISCLAIMER: Product not made for consumption (though you'll be tempted!), so don't eat it please. Safe for sensitive skin.
- STORAGE: Always make sure to tighten the cap back as firmly as possible. Keep product airtight, and do not allow water to enter the container. This will cause the product to become rancid/moldy quicker. We recommend that you use your body scrub within 6 months.
- INGREDIENTS: Sunflower oil, brown sugar, pure cane sugar, granulated sugar, fragrance oil. Cruelty-free, not tested on animals and contains no sulfate, parabens or gluten.
SCENT DESCRIPTIONS:
- Butterbeer:
Calling all Harry Potter fans! This is exactlyyy what we imagine butterbeer from Hogsmead to smell like. Hot buttered rum, creamy buttery toffee, rich brown sugar and bourbon vanilla.
- Apple Butter Caramel: Fresh apple, steamed milk, pure brown sugar, caramel candy, toffee pudding, apple butter, fresh nutmeg, vanilla bean, and soft musk.
- Green Apple: For those who want a true green apple + fresh scent. Crisp apple, pineapple, zests of orange, fresh cinnamon, sandalwood, fresh musk, bamboo, and patchouli.
- Country Bumpkin: A spicy scent of apples, candied yams, marshmallows, sweet cream butter, brown sugar, nutmeg, crushed cinnamon bark and fresh cloves.
- Vanilla Sandalwood: For vanilla lovers, this luscious, rich vanilla scent with the added touch of earthy Indian sandalwood is the perfect combination of sweet and musky.
- Pumpkin Crunch Cake: This scent was so popular last fall, we now keep it year round! Creamy pumpkin pie filling with rich eagle brand milk; surrounded with freshly baked yellow cake, melted butter, pecans, and hints of spice.